DIARY OF A QUARANTINE / Book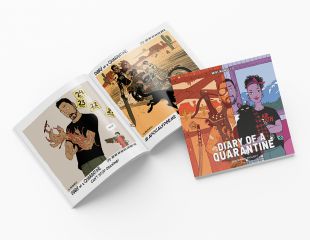 64 pages in color.
17x17 cm, softcover.
Languages: English and Spanish.
·The artist will sign (without a draw) all the books sold during the Preorder campaign.
·Miki Montlló will finish the last page of the book on the 18th of May, and the next day the files will be sent to print.
·The Preorder period will end when the printer hands over the books and all the orders will be delivered (without tracking) by ordinary post the following days.
·To preorder the book, click "reserve your copy". The money will be taken directly from your account after finalizing the process, as it's a preorder and not a crowdfunded project.
English and Spanish
Junio-Julio 2020
Sold out
0 Available units
DIARI DE QUARENTENA / Llibre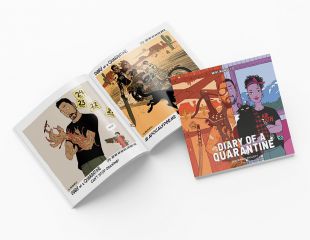 64 pàgines a color.

17x17 cm, rústica.

Edició en Català.

·L' autor dedicarà (sense dibuix) tots els llibres venuts a la campanya Preorder.
·Miki Montlló realitzarà l'última pàgina del libre el 18 del Maig y al día següent s'enviarà tot el material a impremta.
·El termini de reserva Preorder es tancarà quan la imprenta entregui els llibres y tots els enviaments es faràn (sense tracking) per CORREOS durant els dies successius.
·La reserva es cobra directamente amb el mètode de pagament al finalitzar la gestió de compra.
Junio-Julio 2020
Sold out
0 Available units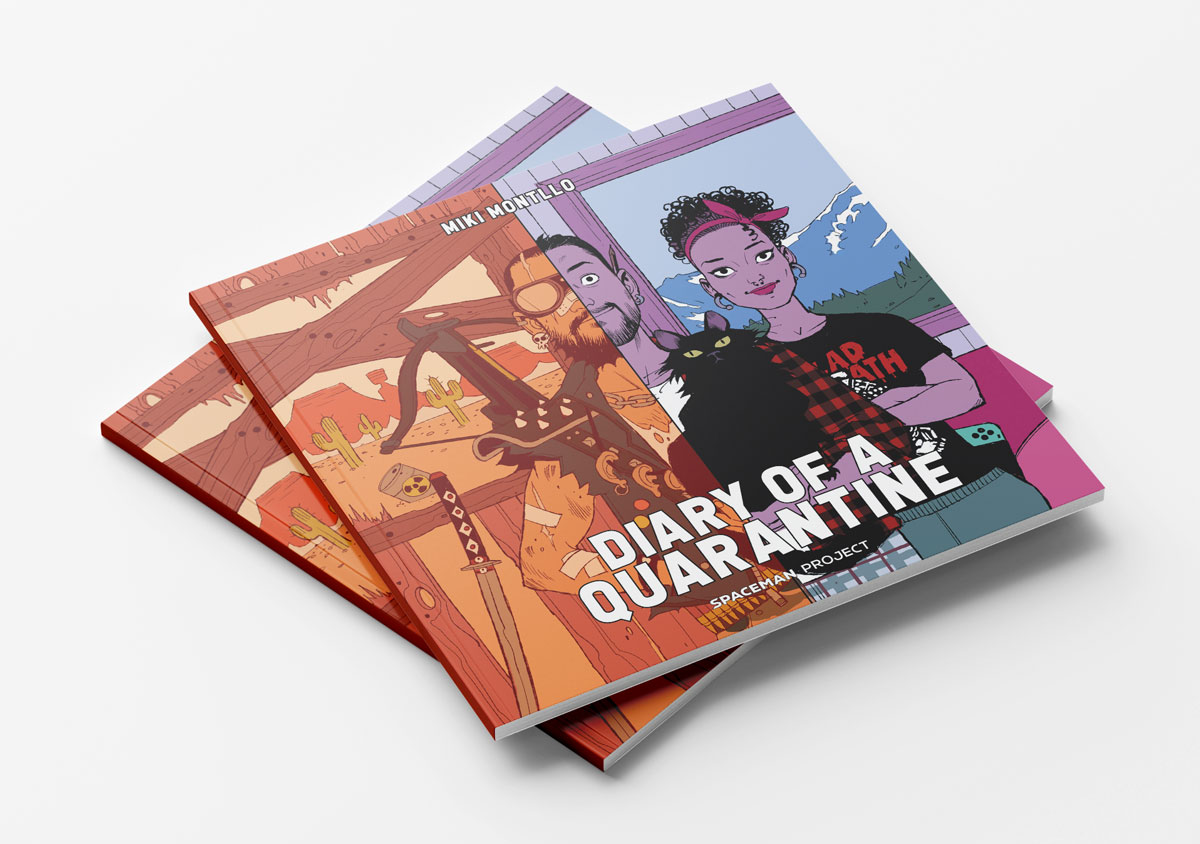 "Quarantine journal arises from the need of keeping my mind sane. Drawing has always been the best way to exorcise my demons, and during these weird times, it has become an obligation, a way of dealing with the cascade of thoughts caused by the damn virus. Starting with denial (it's only a common cold), followed by anger (what the hell is the government doing?), negotiation (nothing is going to happen to us, we will shelter in the mountains and everything will be under control), continuing with depression (this was the Apocalypse that the 80s movies were talking about) and ending with acceptancy (the world is a screwed up place).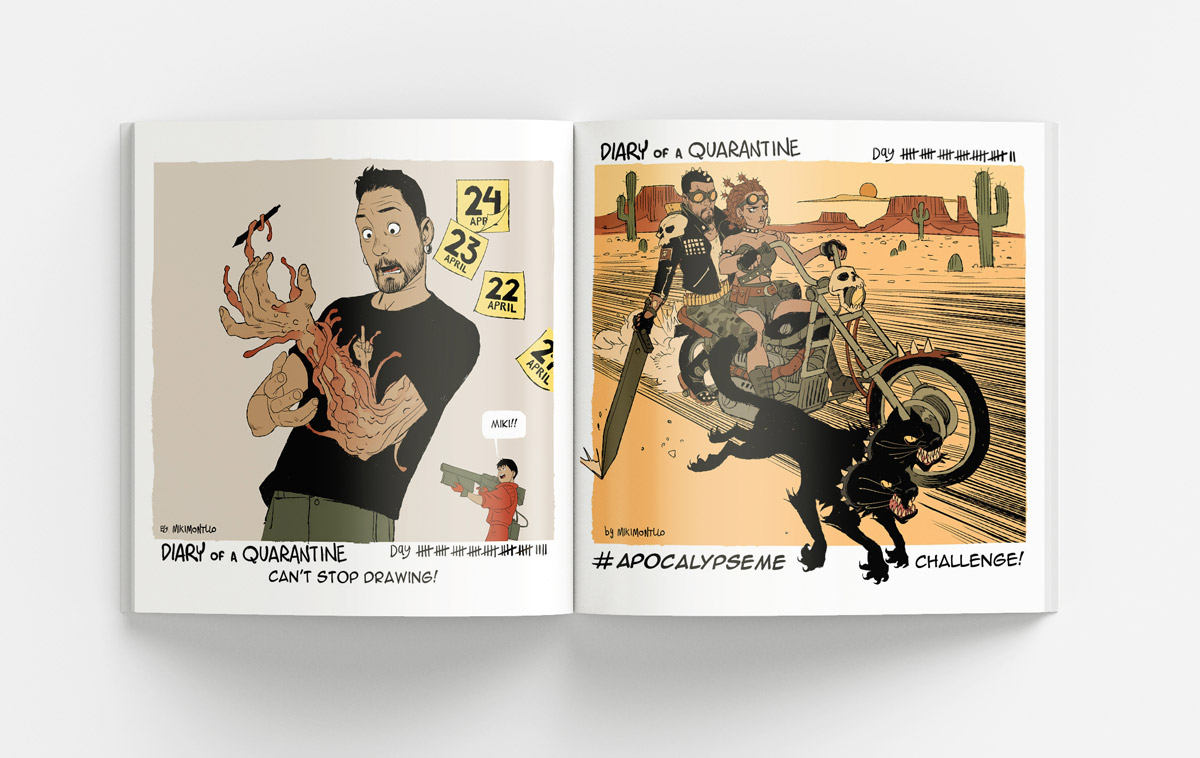 Going through all phases and states of mind, drawing all the way through. Materializing my thoughts in images has become the only option, from our forced isolation, to connect with all the millions of people who were experiencing this catastrophe in pajama from all over the world. The toilet paper madness, the flee of many to their second homes, the collective stupidity, the conspiracy, the tedium and the quarantine gastronomy, all through our experience, in the good company of a cat that secretly laughs about those poor humans, as locked up as she is in a brick world with plasma windows.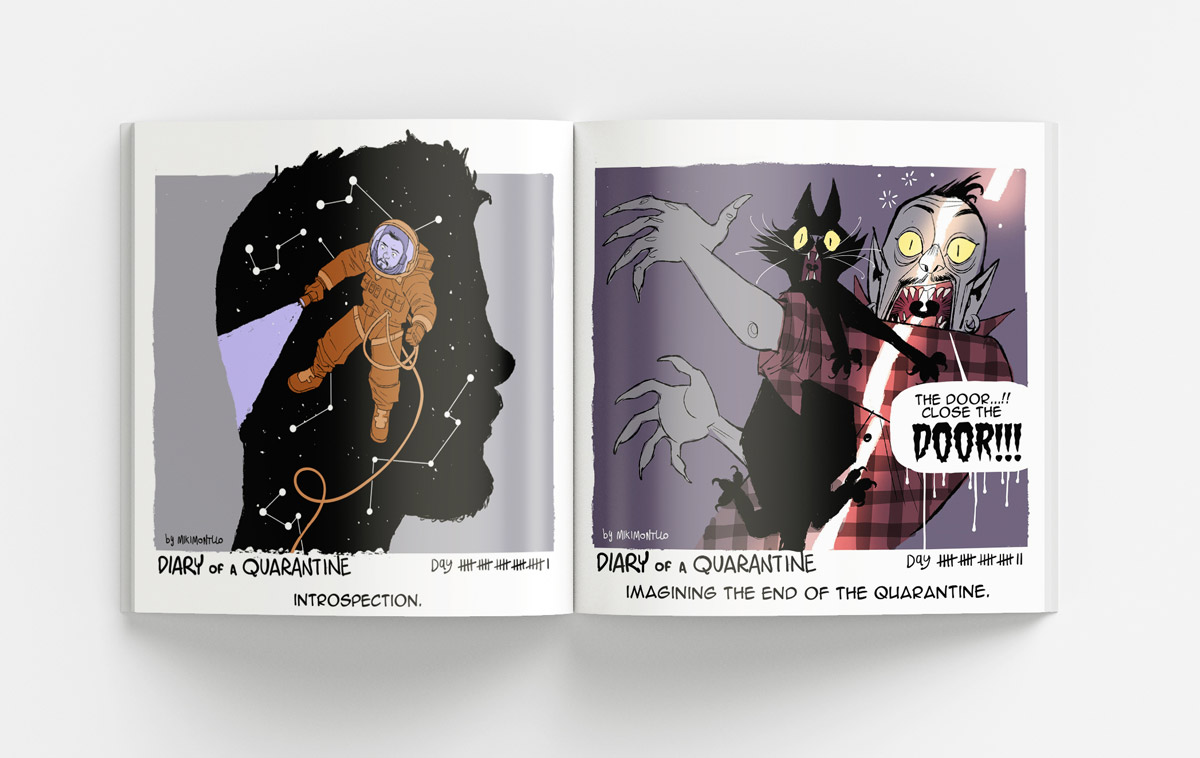 An experience that continues and seems to have arrived to stay with us, but that we will remember in the future as the beginning of a new era, where we had to quickly learn how to stay together despite everything, even from isolation and anxiety.
With humor and sarcasm, this is a book to remember these days that we lived through with intensity, hoping that they will never happen again."
MIKI MONTLLÓ
BONUS
Each Preorder will receive this exclusive DIARY OF A QUARANTINE print as a gift.