Au coeur de la forêt, entre paysages de rêve et créatures fantastiques, se cache le repère des nymphes.
C'est là que nous rencontrons Nima. Elle est parvenue à l'âge adulte et le moment est venu pour elle de prendre en charge le futur de son espèce, mettre en pratique tout ce qu'on lui a enseigné sur le monde des hommes pour les séduire, s'en servir pour perpétuer la lignée et s'en débarrasser ensuite.
Quand elle voit Awk approcher, il lui semble bien éloigné de tout ce que ses soeurs ont pu lui raconter sur les hommes. Le doute commence à s'immiscer... Sera-t-elle capable de perpétuer les traditions ancestrales, les seules qui puissent garantir sa survie et celle des siens mais qui vont à l'encontre de ses sentiments?
Dans cette oeuvre, Enrique Fernandez dépeint un groupe de nymphes qui, parvenues à l'âge adulte, doivent assumer leurs responsabilités et assurer la survie de leur espèce.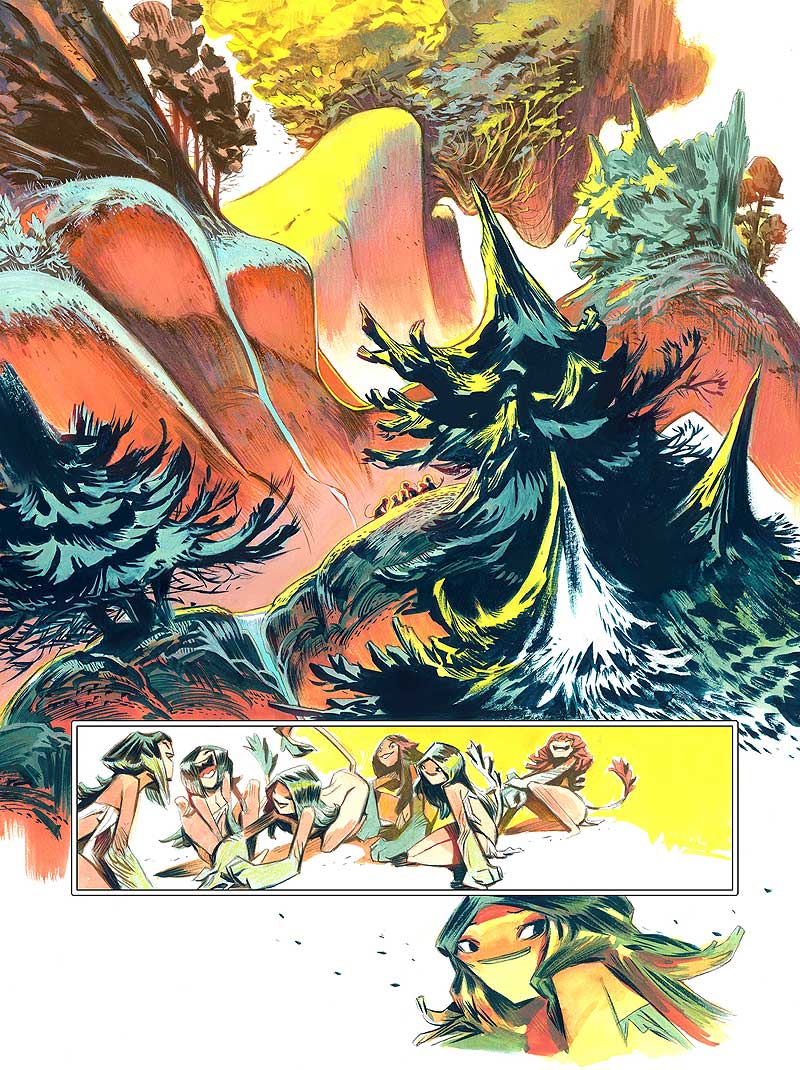 Les nymphes ne mettent jamais au monde d'enfants mâles, c'est pour cette raison qu'elles doivent séduire et tromper les malheureuses créatures qui s'égarent dans leur forêt. Une fois l'union consommée et la nouvelle génération de nymphes perpétrée, elles tuent de sang froid leur malheureuse victime. La justification d'un tel acte est qu'il ne doit pas y avoir de trace, ni exister de relation entre les deux mondes. Et cela dure depuis des générations.
Nima est une nymphe qui, d'une manière générale, doute plus que ses compagnes, se pose la question du sens profond des traditions. Elle s'interroge: Tout se passera-t-il exactement comme je l'ai appris? Elle ne se sent pas prête à accomplir ce qu'on attend d'elle. Et cette sensation s'amplifie quand elle rencontre sa première victime, un humain qui n'est pas exactement tel qu'elle l'avait imaginé, ce qui renforce ses doutes sur la nécessité d'accomplir sa mission, du moins telle qu'on la lui a enseignée.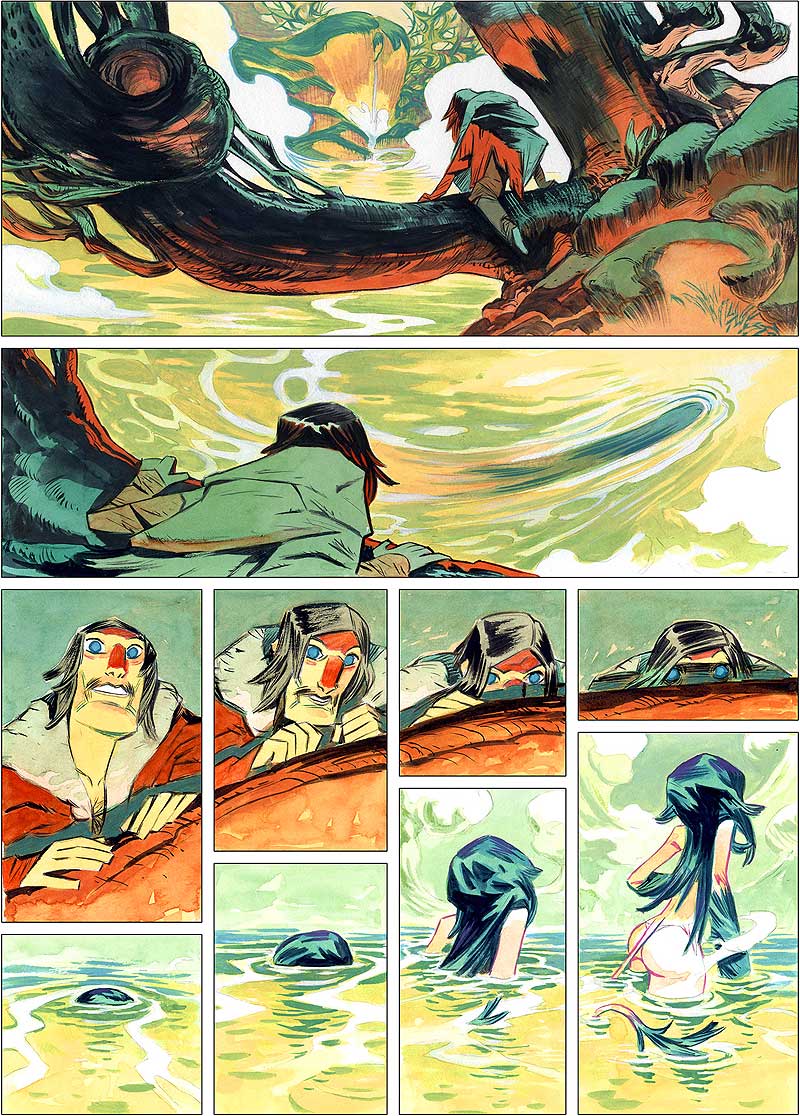 Faisant contrepoint à l'univers des nymphes, nous rencontrons Awk, un jeune homme qui ne parvient pas à trouver sa place parmi les siens. En cherchant à s'éloigner toujours un peu plus du monde des hommes, il s'enfoncera dans une forêt profonde, de laquelle personne n'est jamais revenu. Ce qu'il découvrira dans ce monde nouveau aura de grandes répercussions sur les deux peuples.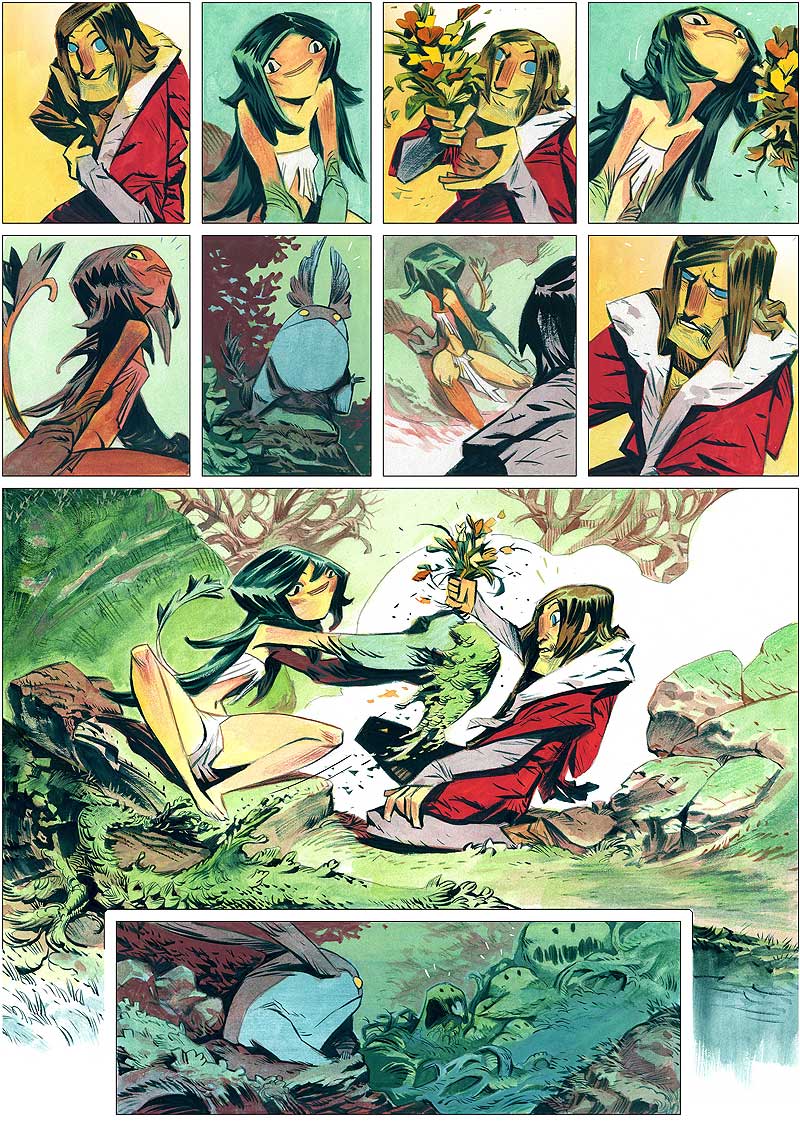 Nima est une histoire d'amour impossible sur fond de conte fantastique au sein de laquelle le destin des deux amants se joue dans un avenir incertain.
Personnages
Récompenses
Nous avons conçu des prix à la hauteur du talent de l'auteur et de cette oeuvre profonde dotée d'une grande sensibilité artistique. Certaines récompenses pourront être achetées en librairie, d'autres non. L'onglet latéral précise pour chaque récompense s'il s'agit d'une édition limitée ou non. L'objectif de cette campagne est ambitieux. Il ne s'agit pas seulement d'atteindre le budget nécessaire à l'impression de Nima, mais de récompenser le lecteur en lui offrant des produits exclusifs avec un haut niveau d'édition. Nous souhaitons que, dès l'ouverture de cette bande dessinée, le lecteur se laisse submerger par une expérience qui restera gravée dans sa mémoire comme un souvenir sensoriel fort.
Spaceman Project comme l'auteur savons ce qu'un travail de qualité représente en termes d'efforts. Nous y sommes préparés. Nous sommes des amoureux de la bande dessinée et nous avons décidé de l'élever à un niveau jamais encore égalé. Un niveau où lecteurs, auteurs, éditeurs et libraires deviendraient les protagonistes. Pour ce faire nous avons accordé une attention particulière au moindre détail et le budget de cette campagne a été adapté à la qualité de l'offre que nous vous proposons.
Le délai de réalisation pour cette oeuvre est estimé à 15 mois.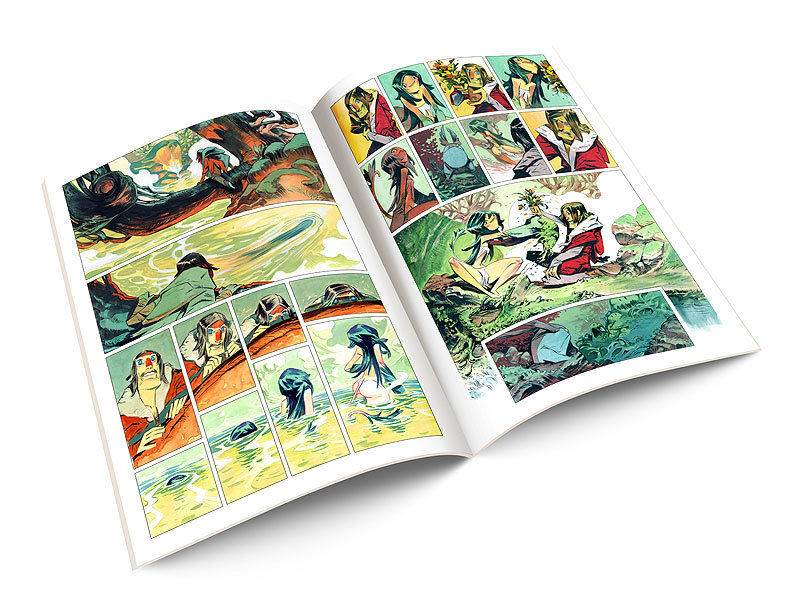 Nous posterons,au fur et à mesure de l'avancement de la campagne, des actualisations graphiques ou informatives afin de vous permettre de pénétrer chaque jour un peu plus dans le monde de Nima. Dans un souci d'équité et afin de garantir un climat de confiance total, aucune contrepartie nouvelle ne sera ajoutée en cours de campagne. Nous avons choisi de vous proposer le meilleur et ce dès le premier jour. Cette politique n'a d'autre but que de satisfaire pleinement et intégralement chacun de nos contributeurs.
Dernier point et non des moindres, toutes les illustrations qui sont présentées dans cette campagne sont provisoires et susceptibles d'être modifiées lorsque l'objectif sera atteint et l'oeuvre en cours de fabrication. Ces modifications affecteront essentiellement les images de couverture, elles ne porteront en aucun cas sur l'histoire, le format de l'oeuvre ou les contreparties proposées (qui resteront inchangés). Le projet que nous proposons et c'est logique, est un projet vivant, un projet en devenir. La créativité n'a pas de limite et nous sommes convaincus que nous ne devons cesser de l'améliorer. C'est l'engagement de qualité que nous avons conclu avec nos lecteurs.
Actualisation (12/02/2016)
Voici un cadeau exclusif destiné aux contributeurs de Nima sur Spaceman Project
Chaque contributeur ayant décidé de soutenir le projet d'Enrique Fernandez, se verra remettre une planche exclusive du personnage de Nima.
Plus de détails sur le blog de Nima

Update (25/02/2016)
Join NIMA's Fan Art Contest!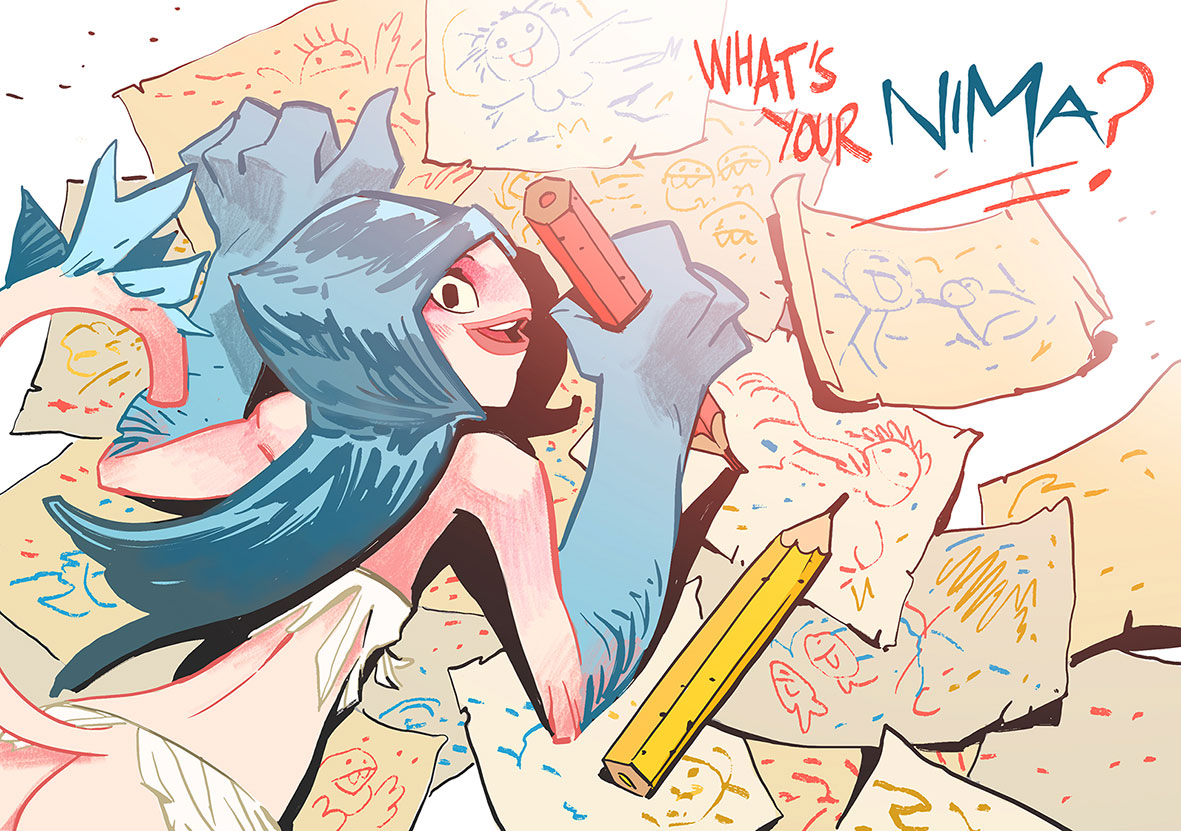 To celebrate the good reception of Nima and share our excitement, we are creating a contest. We are in the middle of the campaign and the final stages of the collection, getting closer to our objective. Are you joining?
You can send your creations until 10th of March at 12:00 (CET). The winners will be announced on the 11th of March.
The winners will be chosen by Enrique Fernández and the Spaceman team. The technique of the fan art and its narrative value will be taken into account.
Update (26/02/2016)
Second gift for the backers of Nima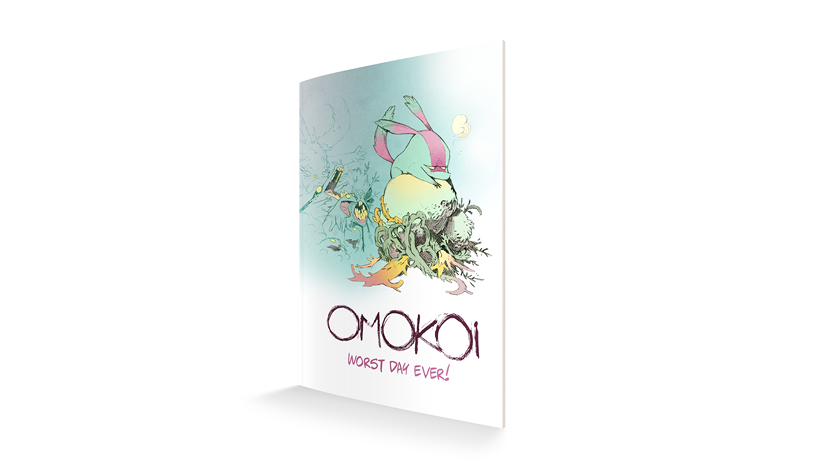 Omokoi is an important character in Nima's story, he is the one in charge of using his odour to attract humans that are lost in the forest and take them to the nymphs. Our heroine suffers the strict lectures of Omokoi, he always look like he has everything under control... but it wasn't always like that. When he was a teenager, discovering his odour didn't only attract humans made him have the worst day of his life...
More about this gift in Nima's blog