NIMA HAS BEEN PRINTED!
Project Update: Nima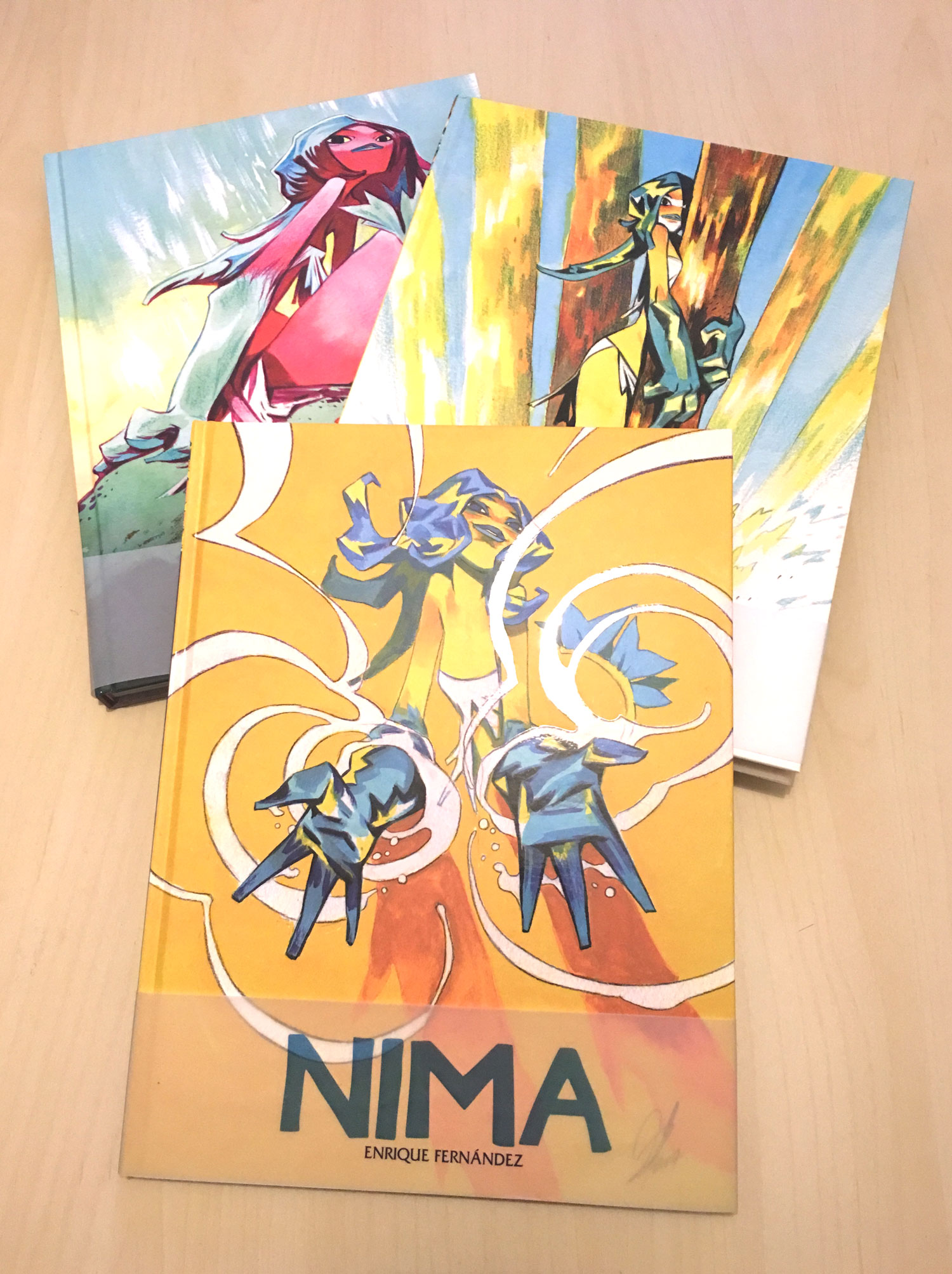 We have the great pride to confirm that the NIMA comic book has come to life and looks great.

We've endured three extra weeks of fabrication process due to the complex and difficult production of 18 individual products and over 10,000 copies printed, and because the printing process took longer than what was first confirmed to us. We are very sorry that we weren't able to send you the copies between November 15th and 18th as was originally planned. Unfortunately we can't always have an exact estimate of production time and we need to face any glitches that may push back deadlines and try to solve them as best as possible.

As you can see in the pictures, the comic book have come to completion. We estimate that the rest of the products (Artbook, Omokoi bonus, laminated bonus, postcards and poster) will be delivered on Tuesday, December 12th, and not sooner because December 6th and 8th are national holidays in Spain, If we receive everything in due time, we will start sending the 1,500 packages to our sponsors from December 14th.

We hope you'll find that the long wait will be worth it and that you will be able to appreciate the work that took us 20 months to produce NIMA, with the author and publication process.

We take full responsibility for misinformation regarding the current state of Spaceman Project and we acknowledge that the communication hasn't always been straightforward. For the past two months, we've been working on a more efficient system to keep our sponsors informed from the platform, especially regarding the meaning of publication process and delivery deadlines, so that the author will be able to keep the sponsors updated throughout the creation process about the evolution of the work or any delays that could come about. We are a team of human beings, we learn from our mistakes and know that we can do better as we learn more about our editorial model. Our goal is to satisfy the needs of the sponsors who trust us and deliver better service every time.

Last but not least, you still have until December 13th (We will delivery your package to the address inserted on that day) to update your name and delivery address with the following path:
Enter in My account / Select rewards / See the details of this contribution / Shipping Address / Edit

We will let you know as soon as we will send out the packages. Remember that the copies won't be on sale in bookstores until all sponsors receive their package, we keep this compromise with all those who have made NIMA a reality and will let them be the first to enjoy this wonderful piece of art.