Welcome to MÁCULAS (stains), a metalinguistic adventure.
Have you ever dreamed of flying, being invisible or possessing amazing strength? Dott Spot doesn't only dream about it, he has the chance to make it happen.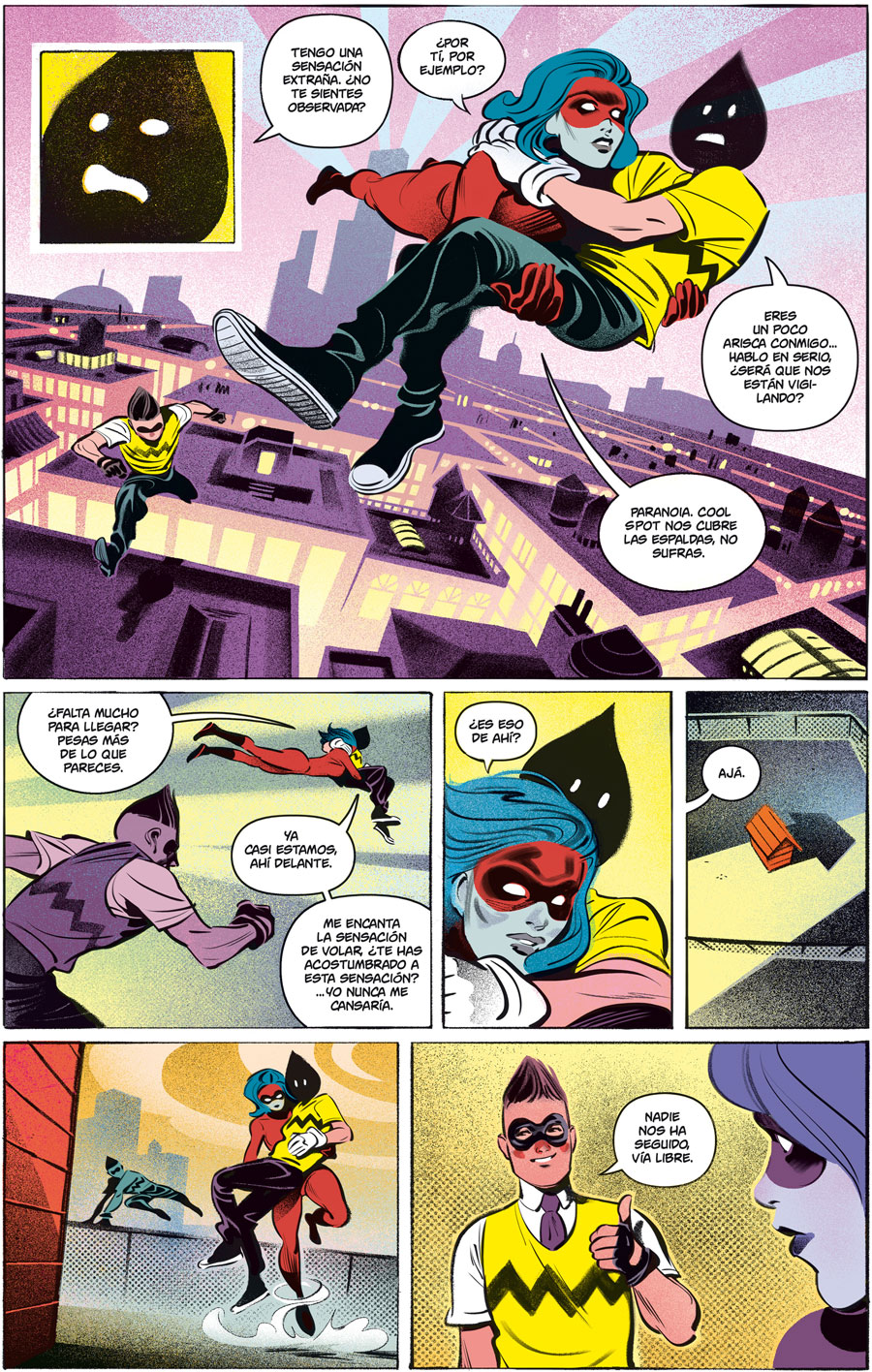 A while ago, the government reached an agreement with the world's bounty-hunters. Catch a criminal, and in exchange receive a super-power. Become a hero to your community and end up as a real superhero. Dott Spot wants to fly, and to achieve this he must capture the most-wanted thief, Iman. But let's tell you a secret Dott Spot doesn't know about. He isn't real. He's nothing but a comic-book character trapped in paper and panels, acting however the writer decides he should.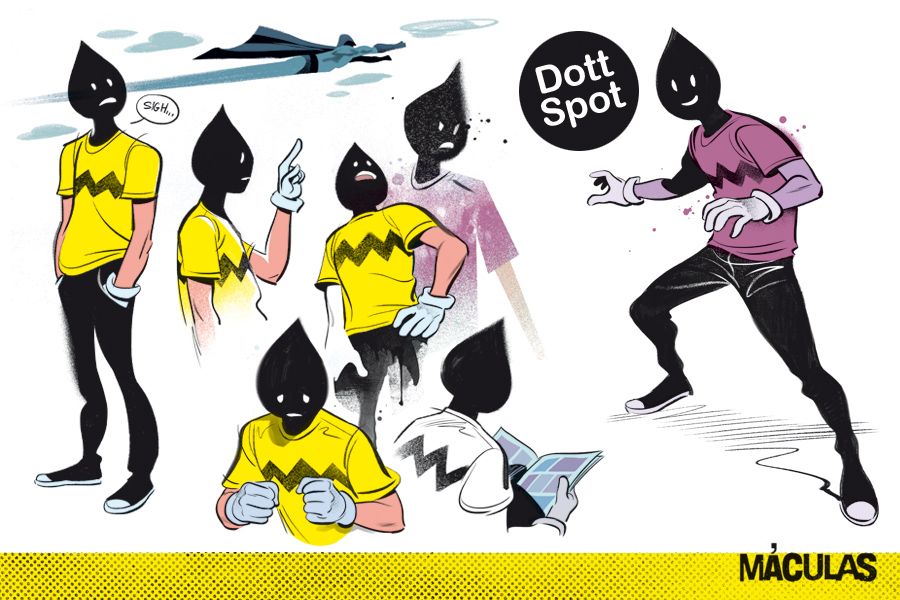 And who is the writer?
Scott has been writing and drawing Dott Spot's adventures for a while now, with the help of his friend Mina, the series' colorist. The last meeting with his editor is possibly the worst he ever had. The series is going to be cancelled, and they are giving him just one final issue to wrap up Dott Spot. How far is Scott willing to go in order to stop this?
Mina gives him a brilliant idea: contacting the creator of the character, the now elderly Spinelli. But... Can we tell you a secret Scott and Mina know nothing about? They aren't real. They are nothing but comic-book characters trapped in paper and panels, acting however a writer decides they should.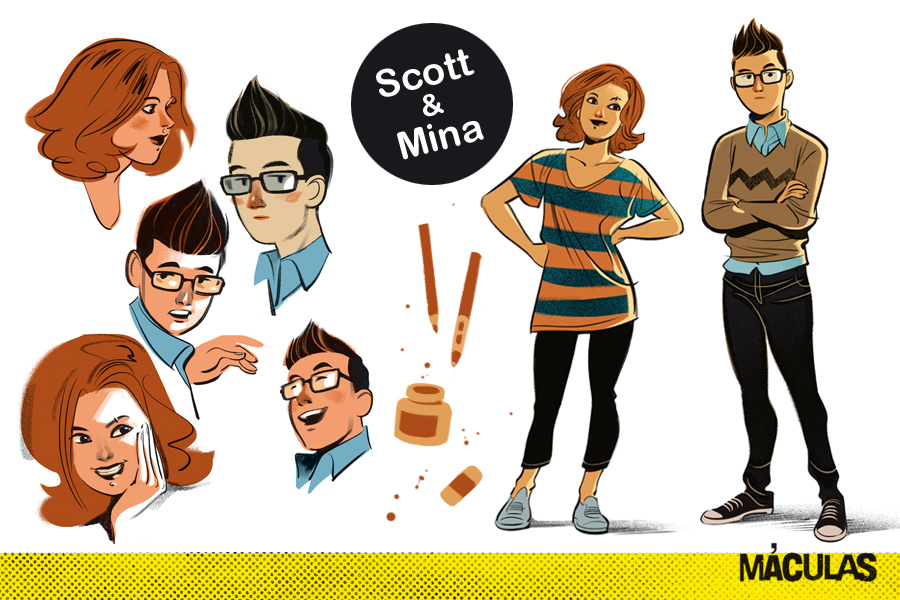 And who is the writer?
Jordi Pastor has been sharing for a while his studio with Danide, the messy-haired artist with whom he has decided to embark on an adventure: Presenting MÁCULAS, a comic of pop-superhero action, humour, metalinguistics and an enticing story of love and nostalgia. How far are they willing to go to make MÁCULAS come true? That's on your hands now.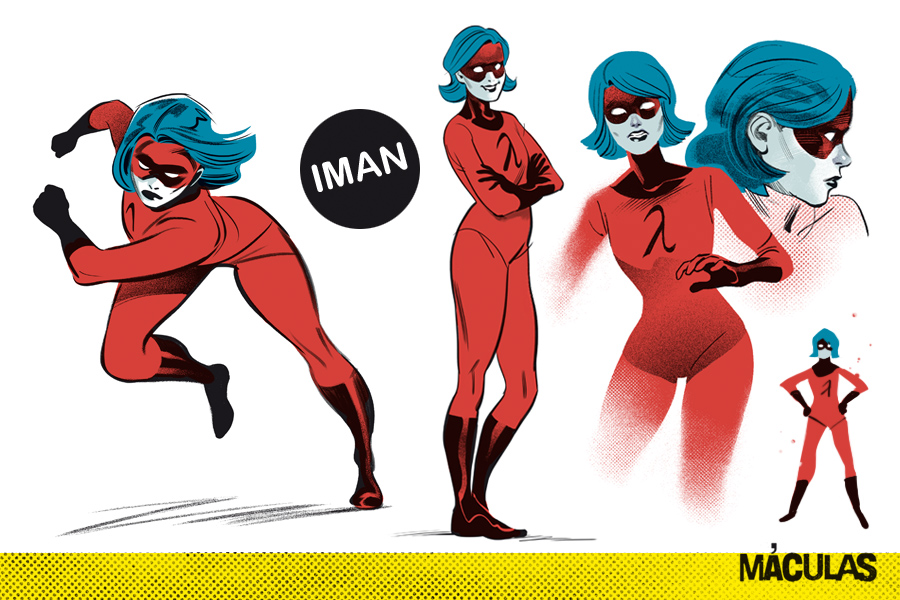 But... Can we tell you a secret Jordi and Danide know nothing about?
You'll have to read this comic if you want to know.
MÁCULAS' storyline was born from a concept that used to wander around in Danide's head. To develop this project he has teamed-up with Jordi, so they can give shape to this fantasy together: a mixture of concepts and references that go from the superhero genre to old newspaper cartoons. A trip trough a variety of narratives and styles with a very clear idea of what a stain is.
A love letter to printed comic-books.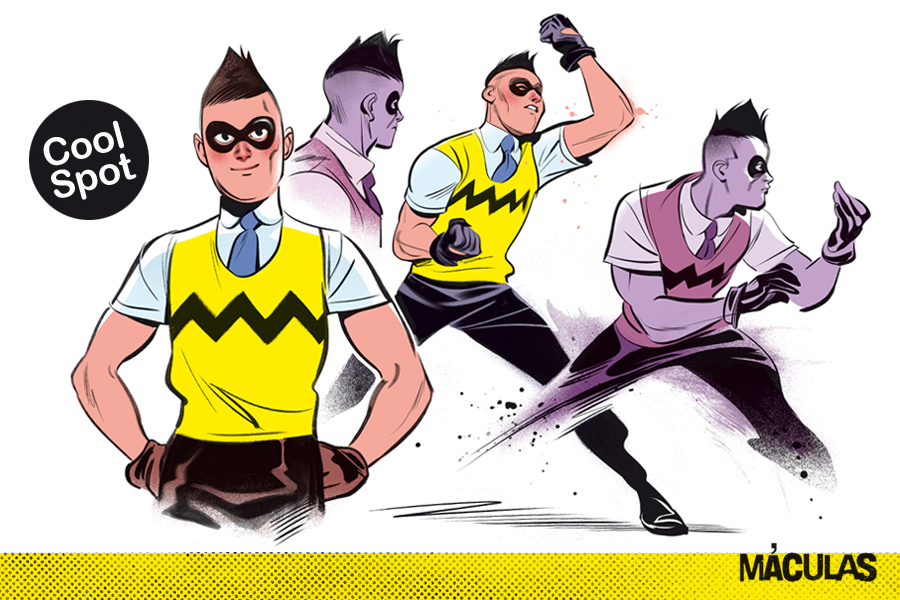 But no shady villain has been mentioned until now. Take part in this project to meet the character the true Dott Spot wants to catch... but wait, the true Dott Spot? What's that supposed to mean? You better not believe there is only one Dott Spot: a comic-book character always changes over time, depending on the authors that gave him life. Discover all of Dott Spot's lives throughout his existence. Join us in this crazy adventure and travel with us trough the CMYK, panel after panel, into the very core of printed paper.
REWARDS GALLERY
We know what a job well done entails and both the author and Spaceman Project are prepared. We love this medium and want to take it to another level where readers, authors, editors and booksellers are the protagonists. Therefore, we have taken small details into account and set a goal of raising an amount in keeping with what we offer.
A maximum period of 15 months is anticipated for the development of this work.
ACTUALIZACIÓN 31/05/2016